Regusci Sampler Gift Set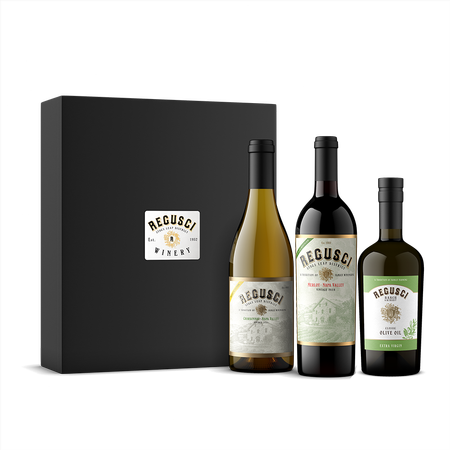 Get a little taste of what Regusci has to offer!

(1) 2021 Chardonnay - This 2021 Chardonnay displays aromas of pineapple, banana, citrus and yellow pear. The palate reveals more tropical and citrus notes such as coconut and lemon zest. Acidity is bright and crisp with a slightly creamy finish, making this wine deliciously food-friendly!

(1) 2018 Merlot - Our 2018 Merlot features aromas of clove, sandalwood, and black peppercorn. On the palate, flavors of blackberry bramble and rhubarb intermingle with soft tannins with lingering berries and spice on the finish.
(1) Regusci Olive Oil -As immigrants of Northern Italy, olive oil serves a vital role in our family's heritage. Today, troves of olive trees adorn our ranch and our cold-pressed olive oil is rarely out of arm's reach.