The Regusci Family Favorites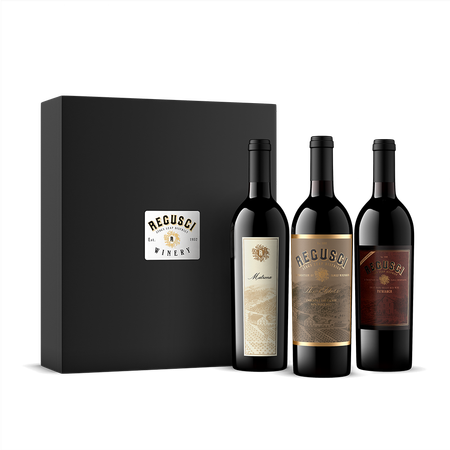 (1) 2017 The Elders Cabernet Sauvignon--The Elders is our signature Cabernet Sauvignon and showcases the oldest and most precious blocks from our family ranch. Through five generations, we remain the oldest farming family in the Stags Leap District and call this wine "The Elders" in tribute to our ancestors.
(1) 2018 Matrona Red Wine --The 2018 expression of our famed Matrona Red Wine showcases powerful, yet elegant aromatics of blueberry, black currant, and plum. On the palate, find hints of Cardamine, pie crust, and subtle notes of black tea. The 62% Merlot gives each sip a soft entry, and the remaining 38% Cabernet Sauvignon unveils a concentrated, deep richness that reaches every corner of the palate leading to a long, broad finish.
(1) 2018 Patriarch Red Wine-- Our 2018 Patriarch is a richly flavored, full-bodied wine that opens up with aromas of red currant, raspberry, and lavender. A blend of Cabernet Sauvignon and Merlot, this Napa take on a Bordeaux will deliver notes of blackberry, cherry, and spice on the palate while leaving a long-lasting finish of vanilla and caramel.