Regusci 2019 Estate Set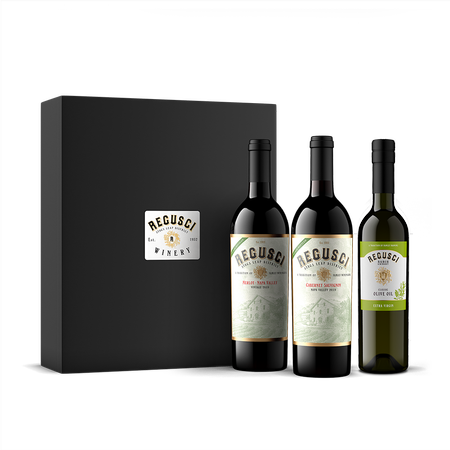 (1) Regusci Olive Oil--As immigrants from Northern Italy, olive oil serves a vital role in our family's heritage. Today, troves of olive trees adorn our ranch and our cold-pressed olive oil is rarely out of arm's reach.
(1) 2019 Estate Merlot--Opening with a bouquet of violets and ripe plum jam on the nose, our 2019 Merlot brings blueberry pie, currants, and rich caramel on the pallet, finishing with soft juicy tannins and Asian spices.
(1) 2019 Estate Cabernet Sauvignon--Our 2019 vintage of our Estate Cabernet Sauvignon opens with soft floral and sandalwood notes on the nose. These delicate characteristics give way to bolder flavors of ripe strawberry and pomegranate on the palate with American oak providing hints of anise and spice.