Legacy Duo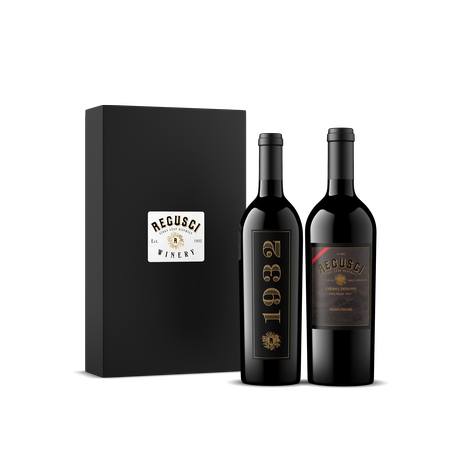 This Duo includes:
(1) 2018 1932 Red Wine - Our 1932 Red Wine represents the year that the Regusci family purchased the Ranch. Our 2018 vintage is a full-bodied Cabernet Sauvignon with a small amount of Malbec to add an extra layer of complexity. Opening with the scent of warm baking spices, this elegant wine has lingering pie crust, violet, and blue fruit on the pallet and finishes with rich rounded tannins and creamy caramel.
(1) 2019 Angelo's Cabernet Sauvignon - In the 1960s, Angelo Regusci transformed the Regusci Ranch into one of the preeminent Cabernet Sauvignon vineyards in the entire world. Named in his honor, our west-facing hillside vineyard represents the absolute pinnacle of Stags Leap District grape-growing.
For a wine this important, our standards are uncompromising. We meticulously pick and isolate the best hillside grapes. We separate the best lots and pair them with our best oak. We tediously monitor the color and flavor of each barrel over a two-year period. And when the time comes, we bottle this amazing wine inside our most robust glass. If a vintage is ever anything short of perfect, we will not release it.