2017 Brave Night Red Wine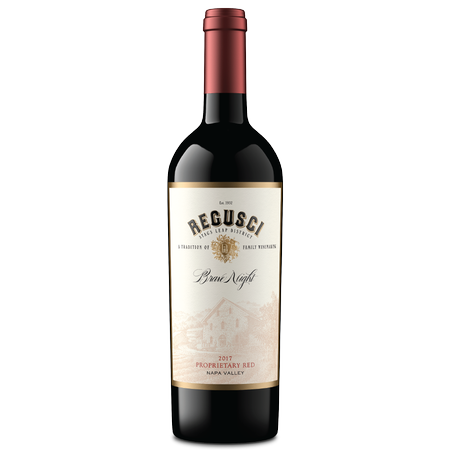 Bottled in remembrance of the Napa Valley Atlas Peak Fire in October of 2017, Brave Night represents the strength and camaraderie of the Regusci Winery friends and family who helped protect Regusci Ranch from the swallows of the fire that evening. This bold, hearty wine is strong enough to bear its name and is a symbol of perseverance through yet another test of time.
The final bottling of this limited-edition wine features aromas of clove, sandalwood, and black peppercorn. On the palate, flavors of blackberry bramble and rhubarb intermingle with soft tannins with a lingering berry and spice finish.
Product Reviews
John Bourne
(Aug 28, 2020 at 9:24 AM)
I think this blend that has its own unique story is exceptional value and one everybody should have a few bottles of in their cellar.
Bob Masewicz
(Sep 4, 2020 at 9:00 AM)
Such a wonderful wine at such a great price. Out tastes other much more expensive Napa Cabs. Great bottle to always have on hand ready to share
Jeff Tomitz
(Oct 20, 2020 at 8:50 AM)
From the description of taste notes provided, I expected a slightly heartier wine. While very good straight from the bottle, I found a few hours of decanting was helpful.
Bob Camaiore
(Oct 21, 2020 at 11:40 AM)
Not as big of a wine as described, but velvety with a lot of character and depth. A group of friends and I really enjoyed it. Good on its own or with a nice steak....
Mike K.
(Oct 21, 2020 at 12:49 PM)
My wife and I both loved this wine. It tastes great and you can't get a better value for a great bottle of wine from one of the best in Napa.
Francine P
(Oct 21, 2020 at 6:21 PM)
I love this wine and I keep reordering it. It tastes great and is a fantastic value for a great bottle of wine from one of the best vineyards in Napa.
Mary C
(Oct 22, 2020 at 6:07 AM)
Every time my husband and I have this wine we say WOW what a great wine! We are always happy that we purchased this wine and when we share it with others they all say the same thing. What a pleasant surprise for the price.
Corey
(Oct 25, 2020 at 4:15 PM)
Typical delicious, spicy, bold glass of perfection I expect from Regusci!