1.5L Angelo's 08-09-10 Vertical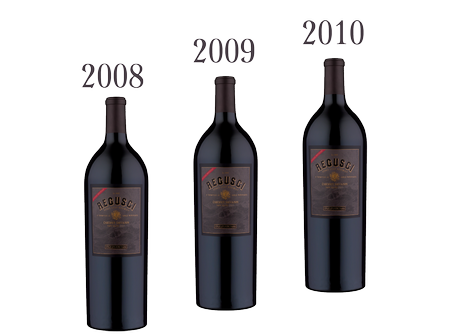 Exclusively from our west-facing hillside, this three-acre vineyard is home to our prized Clone 337 Cabernet Sauvignon. In the 1960s, Angelo Regusci was an integral part of transforming Regusci Winery into one of the most esteemed Cabernet Sauvignon vineyards in the Napa Valley. Named after Angelo, this Cabernet Sauvignon is our flagship wine for a lot of reasons. We meticulously pick and isolate the best fruit from this vineyard. Our winemaking team tediously monitors the color and flavor of each barrel. When the time comes, we've successfully captured perfection in a bottle that you can enjoy.

This perfectly aged library collection of Angelo's is the showstopping trio you've been waiting for. We only have nine (9) of these 1.5L bundles left in stock. Once these bundles sell out, it's the last time you'll find a vertical of Angelo's available for a while. As you probably already know, all 750mL bottles of these vintages are sold out forever.
Only 9 of these 1.5L verticals available

Regular Price: $1270
Regusci Insider Price: $1143

Bundle exclusive to Regusci Insiders only.
Purchase using the link below.
Cannot be combined with Wine Club Membership Discounts.

Want to purchase a vintage individually?
Please reply to this email so we can check inventory for you.