Smoked Pork Tenderloin with Cherry and Fig Compote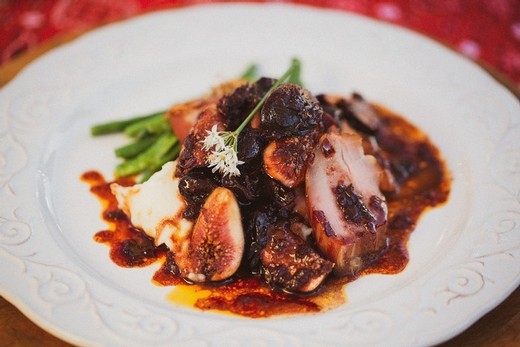 Recipe Date:
February 11, 2021
Measurements:
Imperial (US)
Ingredients
2 cups firmly packed light brown sugar
1/2 cup kosher salt
8 cups water
2 cinnamon sticks
1 tbsp red pepper flakes
2 medium yellow or white onions, coarsely chopped
4 celery stalks, cut into 1-inch pieces
1 carrot, peeled and cut into 1-inch pieces
9 garlic cloves, 6 crushed, 3 thinly sliced
2 bay leaves
2 pork tenderloins, trimmed (about 1 ¼ to 1 ½ pound)
1/2 cup butter
3 cups fresh pitted cherries
1 cinnamon stick
4 tsps ground cumin
1/4 tsp chopped fresh thyme
1/4 tsp freshly ground black pepper
1/16 tsp ground cloves
12 fresh figs, trimmed and quartered
Directions
Pork Tenderloin
Combine sugar, salt, water, cinnamon sticks, pepper flakes, onion, celery, carrot, garlic, and bay leaves in a large pot. Bring mixture to a boil. Reduce heat to medium-low and simmer for 20 to 25 minutes. Remove from heat and cool to room temperature. Set aside 1 cup brine liquid for Cherry and Fig compote.
Add pork to brine. Cover and refrigerate for 6 to 8 hours. Drain pork, discarding brine. Prepare smoker according to manufacturer's directions. Smoke pork at 225° for 1 ½ to 2 hours or until a thermometer inserted in the thickest portion reads 145°. Transfer to a cutting board and let rest for 5 minutes. Slice pork and serve with Cherry and Fig Compote.
Note: You can also grill pork tenderloins over medium-high heat for 12 to 15 minutes or until pork reaches 140 degrees, turning occasionally. Let rest for 5 minutes (meat will continue to cook as it rests).
Cherry and Fig Compote
Pour brine into a small saucepan over medium heat. Bring to a boil. Reduce heat and simmer for 8 minutes or until reduced to ½ cup. Set aside.
Melt butter in a large skillet over medium heat. Add onion and garlic and cook for 4 to 5 minutes or until onions are translucent. Stir in cherries, cinnamon sticks, cumin, thyme, pepper, and cloves. Cook for 2 to 4 minutes, or until cherries are tender, stirring frequently. Stir in brine reduction and cook for 1 minute. Add figs and cook for 2 minutes. Makes 3 ¾ cups.