Roasted Eggplant Parmesan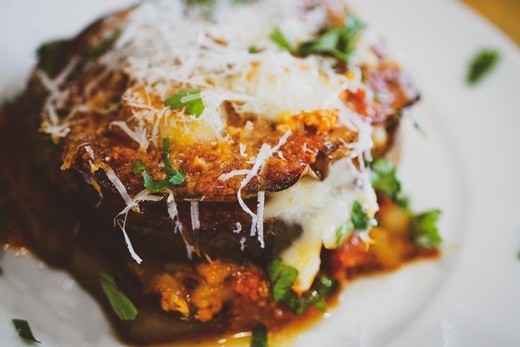 Recipe Date:
February 11, 2021
Measurements:
Imperial (US)
Ingredients
3 medium to large eggplants, sliced 1/2" thick
1/4 cup vegetable oil
1 quart marinara sauce
8 ozs fresh mozzarella
3 ozs ricotta cheese
3 ozs parmesan cheese
1 tbsp chopped fresh basil
1 tbsp chopped fresh parsley
Directions
Season eggplant with salt and let sit for 1-1.5 hours. Preheat oven to 400°. Dry the eggplant with paper towels to remove moisture, and sprinkle with vegetable oil on both sides. Once the oven is ready, insert your baking sheet. After 10 minutes, place the eggplant onto the hot baking sheet. Roast eggplant for 15-20 minutes until golden brown. Then remove from the oven and let cool for about 10 minutes.
Grease a 9x12" baking pan with vegetable oil. Lightly cover the bottom with marinara sauce. Arrange 1 layer of eggplant on top. Add sauce to each of the eggplant rounds, then add a ½ inch of mozzarella. Follow with more sauce and a slice of mozzarella, ricotta, and parmesan cheese. Sprinkle some fresh basil and parsley. Repeat this step two more times. Once you have 3 layers, cover the pan with foil and bake at 375° for 20 minutes. Uncover and bake for 5 more minutes until golden brown.
Prepared by Estate Chef Angel Perez