Wedge Salad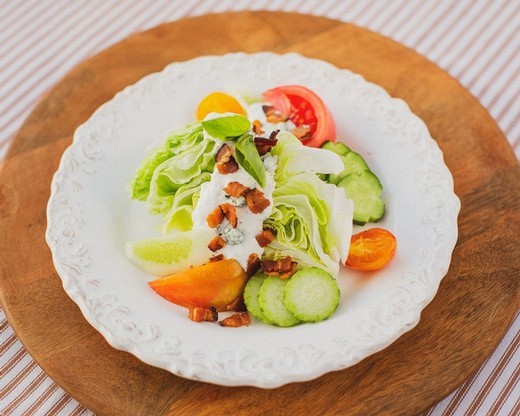 Recipe Date:
February 11, 2021
Measurements:
Imperial (US)
Ingredients
1 cup mayonnaise
1 cup sour cream
1 cup fresh parsley, chopped
1 cup fresh chives, chopped
1/4 cup fresh basil, chopped
2 tsps fresh dill, chopped
1 1/2 tsps fresh lemon zest
1 tsp garlic powder
1 tsp onion powder
1 tsp salt
2 large heads iceberg lettuce
1 cucumber, sliced
2 large heirloom tomatoes, sliced or chopped
1 cup cooked and crumbled applewood smoked bacon
1/2 cup gorgonzola cheese
Directions
Combine mayonnaise, sour cream, parsley, chives, basil, dill, lemon zest, garlic powder, onion powder, and salt in a bowl, stirring until well blended. Cover and chill until ready to serve.
Cut each head of lettuce into 4 wedges and place on serving plates. Spoon dressing over lettuce wedges. Top evenly with cucumber, tomatoes, bacon, and cheese.