Spring Crustless Quiche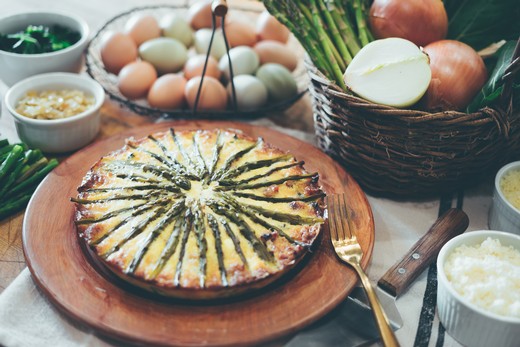 Recipe Date:
April 12, 2021
Measurements:
Imperial (US)
Ingredients
1/2 cup collard greens
1 bunch, asparagus, ends trimmed
1/2 yellow onion, chopped
4 ozs country sausage, out of casing
1 tbsp heavy cream
3 ozs cream cheese, softened
1/2 tsp nutmeg
8 eggs
salt
pepper
4 ozs aged cheddar, grated
3 ozs gruyere cheese, grated
Directions
Preheat oven to 275°. Butter and flour a 9" pie pan. Bring a medium pot of salted water to a simmer. Place collard greens in simmering water for 10 seconds. Remove from water and immediately place in a bowl of ice water. Repeat with the asparagus, leaving in simmering water until tender. Remove collard greens and asparagus from ice water and drain on paper towels. Roughly chop collard greens and set aside. Leave asparagus whole.
Melt butter in a pan over medium heat. Sauté onions until golden brown, remove from pan. Break sausage into smaller pieces and add to pan. Sauté until fully cooked and lightly browned. Remove onions and sausage from pan and set aside on a plate with paper towels.
In a food processor, combine heavy cream, cream cheese, and nutmeg. Mix until smooth. Add eggs one at a time until fully incorporated. Add salt and pepper, to taste.
Cover the bottom of pie dish with 1/4 egg mixture. Layer onions and collard greens, cheddar, sausage, and gruyere. Repeat. Top with the asparagus in a wheel spoke pattern. Bake for 2 hours or until just set in the middle. Remove from oven and cool before serving. Enjoy!
Chef's Notes: To expedite this recipe, you can prepare everything but the egg mixture at least one day in advance. To make this vegetarian, you can omit the sausage.