Roasted Kabocha Squash Salad with Cannellini Beans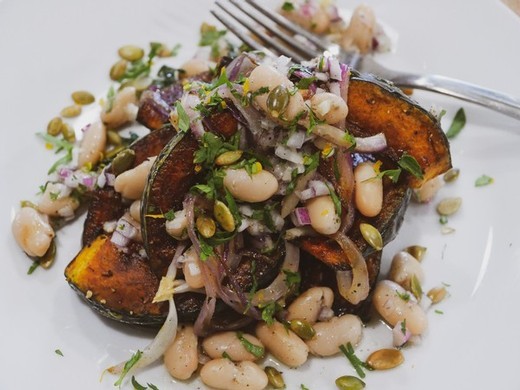 Recipe Date:
February 11, 2021
Measurements:
Imperial (US)
Ingredients
1 cup dried Cannellini Beans
1 celery stalk, chopped
1/2 carrot, chopped
1 bay leaf
1 1/2 tbsps salt
1 kabocha squash (2.5 lbs)
5 tbsps olive oil
1 tsp cumin
1/2 tsp cayenne pepper
2 tbsps lemon zest
1 tbsp italian parsley, finely chopped
1/2 red onion, thinly sliced
6 garlic cloves
1 tbsp red wine vinegar
1 tbsp toasted pumpkin seeds
Directions
Soak dried Cannelli beans in a bowl for 8 hours. Drain the beans and place in a pot with 4 cups water, celery, carrot, and bay leaf. Bring to a boil and then turn down to a low simmer. Cook beans until tender and creamy, about 2-3 hours, adding salt to taste if needed. Set aside.
Preheat oven to 400°. Cut the squash into 3/4" slices and remove seeds. Toss squash with 4 tbsp olive oil, cumin, cayenne, lemon zest, parsley, and salt.
Heat a baking sheet in the oven for 10 minutes, once hot, pour in the squash mixture and roast for 5 minutes. Lower your oven heat to 350°, add red onion and garlic, and roast for another 7 minutes, or until caramelized. Remove from oven, let cool, and toss with vinegar, 1 tbsp olive oil, and salt to taste.
Spoon beans onto squash, garnish with pumpkin seeds, and serve!