Roasted Chicken Thighs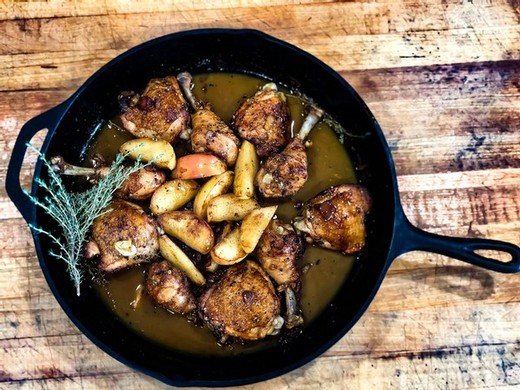 Recipe Date:
February 11, 2021
Measurements:
Imperial (US)
Beautifully complemented by a glass of 2019 Chardonnay, these roasted chicken thighs are both sweet and savory in all the best ways. Apples, honey, dijon mustard, and rosemary are just a few of the ingredients that create this healthy, yet soulful dish. Grab your cast iron skillet, and carve out an hour to make this divine meal straight from our very own Estate Chef Angel Perez.
Ingredients
3 tbsps canola oil
1 lb bone-in chicken thighs
salt
pepper
2 ozs all-purpose flour
1/2 yellow onion, julienned
1 tbsp dijon mustard
2 1/2 ozs apple cider vinegar
1 tbsp honey
3 sprigs fresh thyme
1 fuji apple, cut in wedges
1 tbsp butter
Directions
Preheat the oven to 350°. Season chicken with salt and pepper, and coat with flour. Sear the chicken thighs on both sides in 2 tbsp canola oil until the skin is golden brown, using a medium skillet (be careful to not cook through!). Once seared, brush the chicken with dijon mustard and set aside.
In a sauté pan, cook onions and apples for 3-4 minutes in 1 tbsp oil and 1 tbsp butter.
In a mixing bowl, prepare your sauce by combining the apple cider vinegar, honey, salt, and pepper. Whisk together well until fully mixed.
In a medium-sized cast-iron skillet, arrange the seared chicken thighs, apples, and onions (apples and onions should be in the middle). Drizzle sauce generously, cover the pan with aluminum foil, and bake for 45 minutes.
Remove from oven, serve immediately and enjoy!