Regusci Lasagna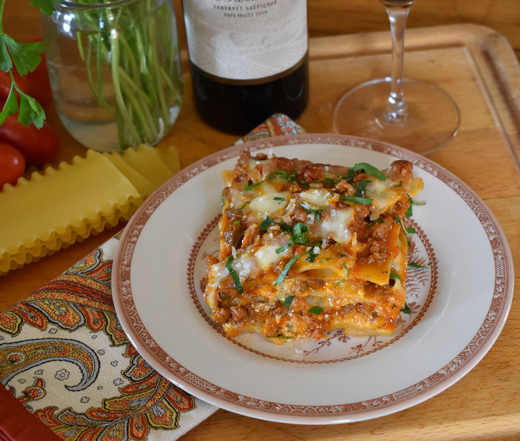 Recipe Date:
November 15, 2021
Measurements:
Imperial (US)
Ingredients
2 tbsps olive oil
1 lb ground beef
1/2 lb spicy Italian pork sausage
1/2 mild Italian pork sausage
1/2 cup Cremini mushrooms, chopped
7 cups marinara sauce
1 lb dry Lasagna sheets
1 cup fresh mozzarella, chopped
1 cup Parmesan, grated
1 cup Ricotta
2 Eggs
1/2 cup Italian parsley, chopped
1 cup mozzarella, shredded
salt and pepper, to taste
Directions
Heat oil in large pot over medium heat, add the ground beef and both sausages, break into small pieces while cooking. Once the meat is finished cooking, add the mushrooms, and cook until all the liquid from the mushrooms has evaporated.
Add the marinara sauce to the meat mixture and cook on low heat and simmer for 1-1.5 hours or until the sauce has thickened, season with salt to taste. Let the sauce cool until room temperature.
Fill a large pot with water and bring to a boil. Cook the lasagna noodles until softened, they will finish cooking while the lasagna bakes. In a bowl mix together the fresh mozzarella, parmesan, ricotta, eggs, and parsley, season with salt and pepper. Preheat oven to 375°F. In a 9x13 baking dish spread enough sauce to cover the bottom of the pan, about 1⁄4 cup. Next layer sheets of pasta over the bottom of the pan. Spread the cheese mixture over the pasta and cover with more sauce. Repeat this process until there are three layers of pasta, on the last layer of pasta cover with sauce and the shredded mozzarella.
Cover with parchment paper and foil. Bake at 375°F for 30 minutes then turn down the oven to 350°F and bake for another 20-30 minutes or until middle of the lasagna is hot. Remove from oven and let rest until set, about an hour. Enjoy!