Regusci Cassoulet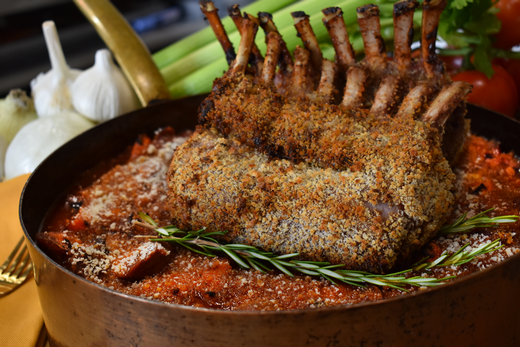 Recipe Date:
September 20, 2021
Measurements:
Imperial (US)
Ingredients
1 lb white beans (Cannellini)
4 carrots, peeled
1/2 onion
4 garlic cloves
1/2 cup olive oil
2 lbs pork roast cut into 1" pieces
5 mild pork sausages
1 lb pancetta, diced
2 cups white onion, copped
2 tsps garlic, chopped
1 1/2 lbs tomatoes, chopped
16 ozs tomato sauce
1 bay leaf
2 tsps thyme chop
1/8 tsp cumin ground
1/8 tsp paprika
4 carrots, peeled, cut into 2" pieces
4 cups chicken stock
1 cup Panko
6 ozs butter, melted
1 cup parsley, chopped
Directions
Soak white beans for 12 hours or overnight. Place beans, carrots, onion, and garlic into a pot, cover with water and bring to a boil. Turn down to a simmer and cook until beans are soft. Once cooked add cold water to cool the beans, once cold rinse with water and set aside.
Preheat oven to 300°F. In a large pan add oil and heat until smoking hot, add pork roast and sear until golden brown, remove pork from pan. Add sausage to the hot pan and cook just until they have some color then remove from pan. Let the sausages rest for about 5 minutes then cut into 2-inch pieces. Add pancetta to the pan and cook until just browned. Add the onions to the pan with the pancetta and sauté until soft and translucent. Add garlic and cook until aromatic. Add the diced tomatoes and cook on low heat for about 10 minutes, then add tomato puree and cook until reduced halfway. Add bay leaf, thyme, cumin, paprika, 3 cups of chicken stock and the browned pork roast, cook for 10 minutes over medium heat. Add the beans and sausage, stir well and transfer to a baking dish. Cover the dish with parchment paper and foil and bake for 2 hours. If the dish is looking dry add the extra 1 cup of chicken stock.
Mix panko, butter, and parsley together sprinkle over the top of the cassoulet and bake for another 5 minutes until the panko is just golden in color.