Rack of Lamb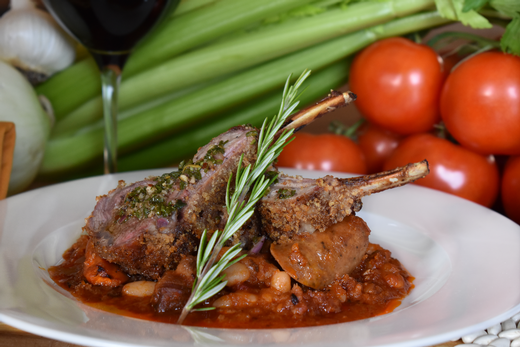 Recipe Date:
September 20, 2021
Measurements:
Imperial (US)
Ingredients
1 lb lamb racks, 8 ribs each, frenched
1 tsp salt or to taste
2 ozs Dijon mustard
1/4 tsp black pepper corns, ground
1/8 tsp cumin seeds, toasted and ground
1/8 tsp coriander, ground
1 cup Panko breadcrumbs
Directions
Preheat oven to 450°.
Remove excess moiture from lamb racks and season with salt. Mix Dijon mustard with ground spices and brush on all sides of the lamb racks. Bread with Panko and set on baking sheet with a rack.
Bake for 18 minutes and remove from oven. Let rest for 4-5 minutes before cutting.
Chef's Note: A frenched rack of lamb has had the excess fat and tendons removed from the bones so that they are clean. Most packaged racks of lamb will have this already done or you can request a butcher to do it when purchasing a rack of lamb.