Chocolate Brownie Skewers with Raspberry Sauce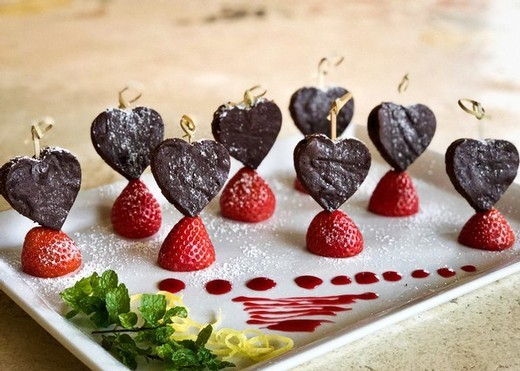 Recipe Date:
February 11, 2021
Measurements:
Imperial (US)
Ingredients
10 tbsps unsalted butter
10 ozs semi-sweet chocolate
1/8 cup cocoa powder
3/4 cup all-purpose flour
1/4 tsp salt
1 cup sugar
2 large eggs
2 tsps vanilla extract
20 skewers
20 strawberries
1/2 oz powdered sugar
1-in cookie cutter
6 ozs raspberries
1/3 cup sugar
2 tsps lemon juice
4 tsps water
Directions
Start by boiling a pot of water. Place 6oz of butter and chocolate into a metal bowl. Place the bowl over the top of the boiling water, stir to melt. Remove from heat once melted. Add cocoa, sugar, eggs, and vanilla.
Using a different bowl, to mix together flour and salt. Add this mixture to the chocolate bowl and stir until there are no more lumps. Use remaining 2oz of butter to grease a 9x13" rimmed baking sheet. Pour in the brownie mix.
Cook for 15 minutes at 325°. Let cool. While brownies cool, cut 12 strawberries in half so they have a flat surface. Cut 12 brownies out using a heart-shaped cookie cutter. Then skewer your brownie through the top of the heart, and then skewer strawberry. Top with some powdered sugar!
Raspberry Sauce: Mash the berries in a small bowl, add sugar, water, lemon, and mix together. Cook on low heat for 20 minutes (until the juice has a syrup consistency). Strain, and voilà!
Note from Chef Angel Perez— "Very easy dish that anyone can execute in no time!"