Cabernet Braised Short Ribs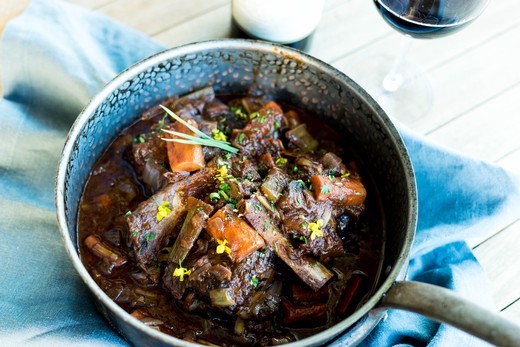 Recipe Date:
February 1, 2021
Measurements:
Imperial (US)
Cabernet Braised Short Ribs are slow-cooked in the oven until they're fall-apart tender. Aromatics of fresh carrots, onion, celery, herbs, and red wine create a savory, delicious sauce. Our favorite way to serve these short ribs is over creamy polenta. You might think this is a time-consuming dish to make, but there are only about 20 minutes of hands-on time, the oven does most of the work for you.
Ingredients
3 lbs beef short ribs
4 carrots, peeled, cut into thick slices
4 stalks of celery, cut into thick slices
3 leeks, chopped, white parts only
1 cup chopped onion
2 tbsps chopped fresh thyme
2 tbsps chopped fresh rosemary
3 tbsps olive oil
4 cloves of garlic, chopped
2 cups cabernet sauvignon
3 cups beef stock
2 tbsps tomato paste
1 bay leaf
1/2 bunch of italian parsely
2 lemons zested
Directions
Preheat oven to 350°. Set the ribs on a tray and season with salt and pepper. In a large Dutch oven, add olive oil and set over medium-high heat. Add the ribs to the pot and sear the meat until completely browned. Remove the ribs from the pot, set aside, and allow to cool down to room temperature. Add carrots, celery, leeks, onions, and saute until the leeks are medium browned. Add the garlic and tomato paste and saute until fragrant. Add wine and stir swiftly. Add the stock, bay leaf, and ribs. Cover and place into the preheated oven. Cook for 2-2.5 hours, turning ribs halfway through cook time. Ribs are done when meat shreds easily or falls off the bone. Skim off any excess fat and season sauce with salt and pepper as needed. Sprinkle on the parsley and lemon zest before serving.