Butternut Squash Soup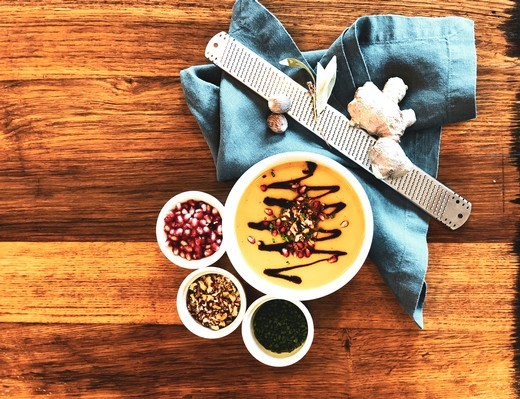 Recipe Date:
November 8, 2018
Measurements:
Imperial (US)
Ingredients
1 butternut squash
4 tbsps butter
1/4 cup brown sugar
salt and pepper, to taste
1 medium carrot
2 stalks of celery
1 white onion
2 large garlic cloves
1/2 shallot
1 thyme sprig
1 organic bay leaf
1/2 tsp white pepper
1/2 tsp toasted, ground cumin
1/2 tsp finely grated whole nutmegs
1/2 tsp chopped, fresh ginger
3 tbsps butter
1 tsp salt
1 tsp black pepper
2 cups water
4 tbsps balsamic glaze
1/2 cup pomegranate seeds
2 tbsps chives
1/2 cup candied walnuts
Directions
Clean the butternut squash, make 2 cuts- one to cut the squash in half, and another lengthwise. Take the seeds out, leaving the skin on. Place the 4 sections of the butternut squash on a foil-covered baking sheet, skin-sides down. Before you bake, top the squash with a couple of slices of butter, and sprinkle with brown sugar. Also, add a couple of dashes of salt and pepper. Place into the oven at 350 degrees for 30 minutes, or until the squash has a nice golden-brown color.
While the butternut squash is roasting, make the mirepoix. Cut the carrots, celery, onion, and shallot into large pieces. On high heat, cook 3 tbls. Butter in a large pot, taking care not to burn the butter. As soon as the butter melts, throw your vegetables in and turn the heat down to low, cook until veggies are tender and caramelized. After 10 minutes add the garlic, continue cooking for another 5 minutes, be sure to not over crowd the pot.
Add 2 cups of water, thyme, bay leaf, white pepper, toasted/ground cumin, and ginger to the pot. Let simmer continuously on low, uncovered, for about 25 minutes, stirring occasionally.
Take the squash out of the oven, drain butter and sugar juices into the soup pot. Let squash cool. Once cooled, remove the skins from the squash using a paring knife or potato peeler. It should peel off like a banana. Remove thyme sprig and bay leaf. Add 2 more cups of water. Add squash to the pot.
Grate your nutmeg into the pot and stir, continue simmering for another 20 minutes.
Sprinkle in more brown sugar and salt and pepper to taste.
Time to blend with your hand blender! Blend it, and taste again for seasoning. Soup should be a little bit spicy, and a little bit sweet.
When you feel it is ready, pour soup mixture into bowls, drizzle each with balsamic glaze and top with small amounts of chives, candied walnuts, and pomegranate seeds. If you want to make your own balsamic glaze – cook balsamic vinegar on low, until it reaches a honey texture. Don't add salt, it's that easy!