The Collector Gift Set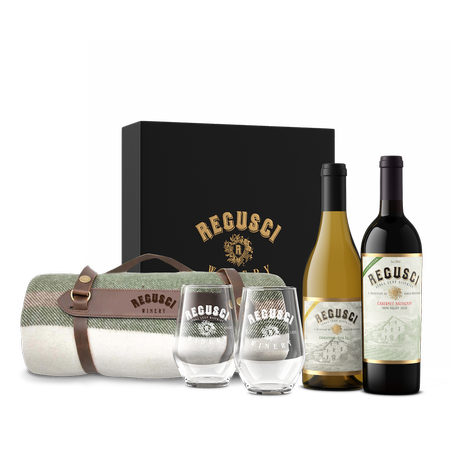 Give the gift of a cozy, snowy night in, with a Regsusci-themed picnic by the fireplace! This gift set is truly special—with the silky sophistication of our 2018 Mary's Cuvee Chardonnay and pre-release of our 2018 Estate Cabernet Sauvignon; wrap your loved one in a night to remember. This is the perfect gift for the Regusci Collector in your life. Presented in an elegant gift box.
Enclosed items:
PRE-RELEASE! 2018 Estate Cabernet Sauvignon
2018 Chardonnay
Two Regusci Winery Stemless Glasses
Portable Regusci Winery Wool-Blend Picnic Blanket with Vegan Leather Strap
Comes With:
Gift Box
Regusci Holiday Greeting Card
Holiday Ground Shipping Deadlines
Thanksgiving—November 19th

Hanukkah—November 30th / CA—December 6th
Christmas—December 13th / CA—December 20th
New Years—December 20th / CA—December 27th
Chose 1 or 2 day shipping past these recommended dates for on-time deliveries.