Sip & Sing 3 Pack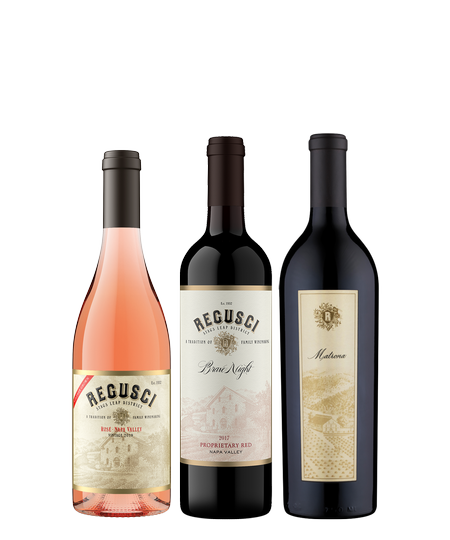 Includes 1 bottle of each:
2019 Rosé
You're going to want to uncork this release straight away! A full-flavored, fresh expression of our Rosé of Pinot Noir! Opening with aromas of wild strawberries and cream, raspberry, and kiwi, this crisp and elegantly dry wine is complemented by fruit flavors of watermelon and bing cherry. A wine with vivacious acidity, nicely rounded mid-palate, and a persistent finish.
2017 Brave Night
Bottled in remembrance of the Napa Valley Atlas Peak Fire in October of 2017, Brave Night represents the strength and camaraderie of the Regusci Winery friends and family who helped protect Regusci Ranch from the swallows of the fire that evening. This bold, hearty wine is strong enough to bear its name and is a symbol of perseverance through yet another test of time.
The final bottling of this limited-edition wine features aromas of clove, sandalwood, and black peppercorn. On the palate, flavors of blackberry bramble and rhubarb intermingle with soft tannins with a lingering berry and spice finish.
2017 Matrona
Italian for "matronly," our Matrona Red Wine is named after Livia Regusci, who was far more than the founding mother of our family ranch. A beautiful blend of Merlot and Cabernet Sauvignon, the 2016 vintage of Matrona delivers lush aromas of boysenberry, black currant, cherry cola, and spicy plum. A smooth, textured, and alluring mouthfeel with flavors of creamy macadamia nut, cedar, plum and berry compote. A medium bodied wine with well-integrated tannins and a pleasant, lingering finish.
*Additional discounts do not apply