Retrospective Case
Block 27, Merlot & Zinfandel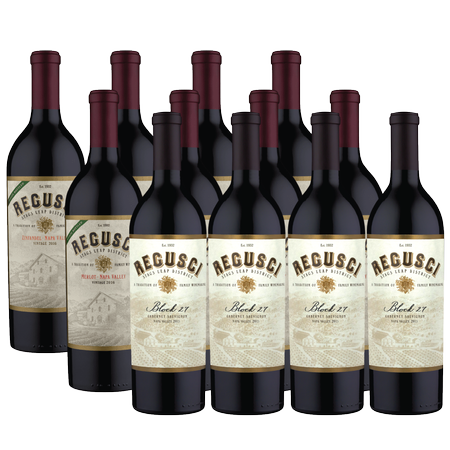 This retrospective case contains four bottles each of 2015 Block 27 Cabernet Sauvignon, 2016 Merlot, and 2016 Zinfandel. Go back in time a few years to truly experience the beauty of Stags Leap District's bounty during two incredible growing years. These carefully aged, bold red wines will make an excellent addition to your collection.
The 2015 Block 27 Cabernet Sauvignon demonstrates what it means to be a Regusci Cabernet—ripe, dark fruit combined with the softness of vanilla and mocha, finishing with a nice addition of baking spice and earthy tones.
The 2016 Regusci Merlot stands up to a proud legacy. With ripe cherries, warm dark chocolate, vanilla, rich cocoa, and caramel aromas, this wine harmoniously unravels out of the glass. Balanced density on the palate, complete with a velvety texture and great assimilation overall.
With each swirl of the 2016 Zinfandel, you'll notice aromas of subtle spice intermingling with red and blue fruits. A juicy mid-palate gives way to an abundance of "cobbler" fruits, vanilla bean, and milk chocolate, sure to leave a lasting impression.