Regusci Sampler Gift Set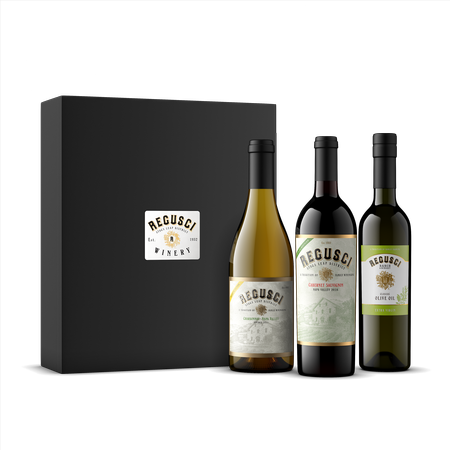 Not sure what to get a loved one this holiday? We've got you covered with this bundle!
Our 2019 Chardonnay went through full barrel fermentation allowing the wine to sit on the lees, without stirring, which gives it a rich creamy texture while preserving the wine's bright acidity. This vintage opens with the fragrance of orange blossom, giving way to subtle white stone fruit and pear on the palate, and finishes with the lingering notes of brioche and toasted meringue.
2018 Estate Cabernet Sauvignon this stunning wine is made up of 100% Estate Cabernet Sauvignon and has opulent aromatics of black currant, cassis, and a hint of cedar. Beautiful dark cherry and blackberry fruits intermingle with a hint of creamy vanilla on the mid-palate that delicately play together like a philharmonic orchestra. This is a wine of impressive depth and character that will age for the next 10+ years, no questions asked.
As immigrants of Northern Italy, olive oil serves a vital role in our family's heritage. Today, troves of olive trees adorn our ranch and our cold-pressed olive oil is rarely out of arm's reach. So we give you a bottle of Regusci Olive Oil to share our family heritage with you.