Ranch Duo Gift Set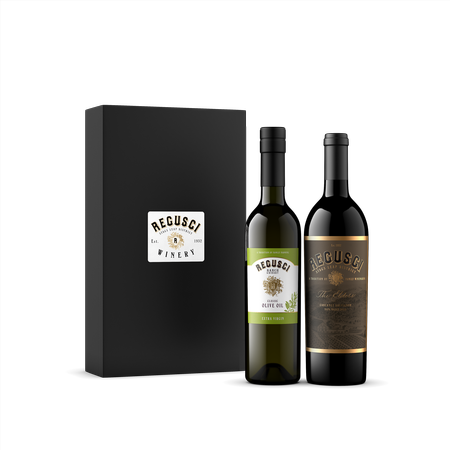 This duo gift set includes our 2018 The Elder's Cabernet Sauvignon and Regusci Olive Oil.
As immigrants of Northern Italy, our olive oil serves a vital role in our family's heritage. Today, troves of olive trees adorn our ranch and our cold-pressed olive oil is rarely out of arm's reach.
The 2018 edition of The Elders Cabernet Sauvignon provides us with a myriad of audacious, interesting, and complex aromas on the nose—it opens with dark, concentrated notes of blackberry, vanilla bean, and baking spice. The palate offers an elegant blend of blackberry pie, red currant, and it is deliciously enlivened with notes of molasses. This wine needs no more accompaniment than a leather wing-backed chair beside a toasty fire. Perfect for all holiday get-togethers!