Legendary Large Formats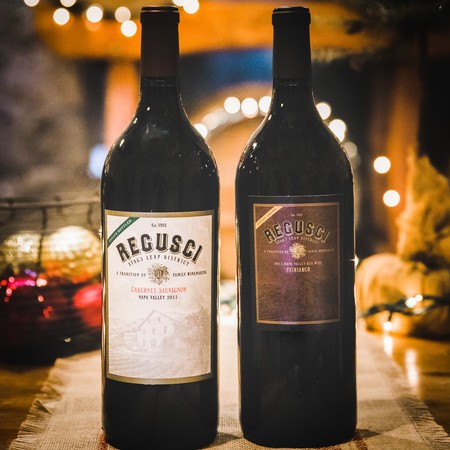 This dynamic duo is our showstopping recommendation for your holiday dinner gatherings or parties. These two Regusci Estate Cabernet Sauvignon wines from 2011 have been carefully aged for eight years to perfection, and now is the time to enjoy them. Within every 1.5L magnum is 10 glasses of wine for your whole group to enjoy. Multiply that by two, and you'll surely end the night with everyone's taste buds satiated beyond satisfaction.
More about each wine:
The elegant and concentrated 2011 Patriarch is our blend of Cabernet Sauvignon, Merlot, and Cabernet Franc, showcasing the complexity and depth that the best sites on our Estate have to offer. On the nose, find dark cherries, raspberries, spice rub, and pencil shavings. With a velvety texture, the palate of rich fruit is supported by cigar box, vanilla, and baking spices. Pair with braised short ribs and polenta, or age gracefully for the next 10-15 years.
Sweet spice, briar fruit, and toast on the nose pull you towards an expectation of a leaner vintage with the 2011 Cabernet Sauvignon. The palate unfolds with tart black currant, anise, a little pencil lead but with darker berry fruit following right after. The mouthfeel is lively, brisk and sharp thanks to the cooler 2011 growing season, but with an abundance of depth and structure.