Legacy Gift Set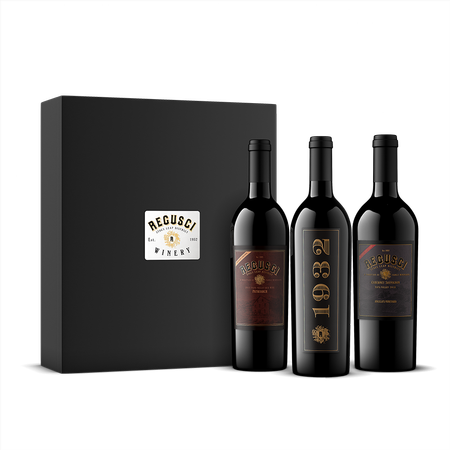 What better way to celebrate this holiday season than with our Regusci Legacy Gift Set.
The 1932 Red Wine represents the best of our estate Bordeaux varieties and is a wine to be cherished and enjoyed. The 2017 vintage is bursting with aromas of ripe raspberries, strawberry jam, with soft, toasted vanilla notes. This smooth, velvety wine fills the palate with nuances of violet, vanilla pods, and a soft smoky, toast. With each swirl and sip, you'll discover rich tannins beautifully framed by French oak.
Our 2018 Patriarch is a richly flavored, full-bodied wine that opens up with aromas of red currant, raspberry, and lavender. A blend of Cabernet Sauvignon and Merlot, this Napa take on a Bordeaux will deliver notes of blackberry, cherry, and spice on the palate while leaving a long-lasting finish of vanilla and caramel.
Angelo Regusci transformed the Regusci Ranch into one of the preeminent Cabernet Sauvignon vineyards in the entire world. Named in his honor, our 2018 Angelo's represents the absolute pinnacle of Stags Leap District grape-growing. We meticulously pick and isolate the best hillside grapes. We separate the best lots and pair them with our best oak. We tediously monitor the color and flavor of each barrel over a two-year period. And when the time comes, we bottle this amazing wine inside our most robust glass. If a vintage is ever anything short of perfect, we will not release it.