LITV 6-Pack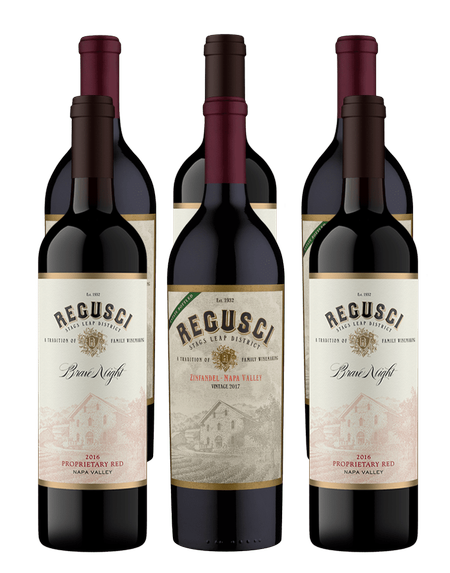 Get your hands on this exclusive 6-pack featuring two of Regusci Winery's most favorited wines, Brave Night and Zinfandel. This 6-pack includes 3 bottles of each of the following wines:
2016 Brave Night
Bottled in remembrance of the Napa Valley Atlas Peak Fire in October of 2017, Brave Night represents the strength and camaraderie of the Regusci Winery friends and family who helped protect Regusci Ranch from the swallows of the fire that evening. This bold, hearty wine is strong enough to bear its name and is a symbol of perseverance through yet another test of time.
With a strong backbone of Napa Valley Cabernet Sauvignon, this wine is complemented by Petit Verdot and Cabernet Franc, to round out and fine tune. This strong-willed, sturdy wine opens with aromas of blueberry, red currant and licorice spice notes. On the palate, flavors of red currant and subtle vanilla bean enchant all while being held tightly together by the framework of subtle oak and structured tannins.
2017 Zinfandel
Bearing a medium-hue, with each swirl you'll notice aromas of subtle spice intermingling with red and blue fruits. A juicy mid-palate gives way to an abundance of "cobbler" fruits, vanilla bean, and milk chocolate. A soft tannin experience on the finish allows the fruit character to linger and leave a lasting impression.
*Additional discounts do not apply