New Releases Gift Set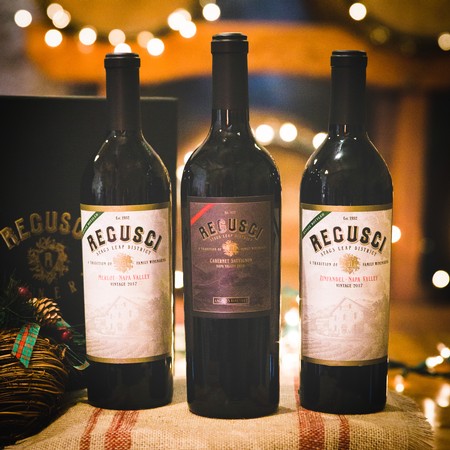 The perfect way to introduce friends and family to the world of Regusci wines is to gift them our current releases, which are the freshest, seasonal wines from our winemaker. The Fall 2019 current release includes a 2017 Merlot, a 2017 Zinfandel, and our 2016 Angelo's Cabernet Sauvignon. This is the same offering that our Heritage Wine Club Members just received, and it comes with a Regusci Winery Gift Box!
Our 2017 Merlot represents our Stags Leap roots perfectly. As soon as you try it, you'll taste soft-toned fruits that are mouth-filling with graham crackers and mocha that sneaks up in the background. This is the most intriguing Merlot we've ever made.
In contrast, our 2017 Zinfandel bears a medium-hue, with each swirl you'll notice aromas of subtle spice intermingling with red and blue fruits. A soft tannin experience on the finish allows the fruit character to linger and leave a lasting impression.
And last but not least, our coveted 2016 Angelo's Cabernet Sauvignon. Named in Angelo Regusci's honor, this wine is special to our family, and before each highly anticipated release, we refine it to be the best of the best from our property. For a wine this important, our standards are uncompromising. Only 200 cases were made. Members of our Heritage, Founders, and Legacy Wine Clubs are the first to enjoy this nothing-short-of-excellent Cabernet Sauvignon.