Epicurean Duo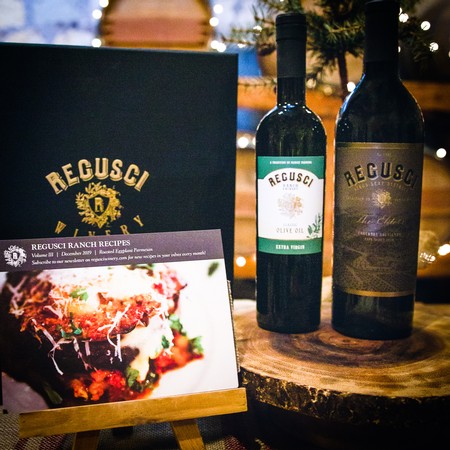 Our Epicurean Duo captures several unique aspects of Regusci Ranch, highlighting what we do best! Included in this bundle is a bottle of our 2016 The Elders Cabernet Sauvignon, our Regusci Extra Virgin Olive Oil, and to top it all off— our famous Baked Eggplant Parmesan family recipe.
The Elders is our signature Cabernet Sauvignon and showcases the oldest and most precious blocks from our family ranch. Through five generations, we remain the oldest farming family in the Stags Leap District and call this wine "The Elders" in tribute to our ancestors. This estate-grown and produced Cabernet Sauvignon represents the purest expression of one of Napa Valley's most revered vineyards.
As immigrants of Northern Italy, olive oil serves a vital role in our family's heritage. Today, troves of olive trees adorn our ranch and our cold-pressed olive oil is rarely out of arm's reach.
This is a great gift for anyone who enjoys cooking a healthy meal and a superb Cabernet Sauvignon. Our Eggplant Parmesan recipe is baked, not fried, making it a gluten-free and calorie friendly meal that you'll want to make again and again.