Backyard Bundle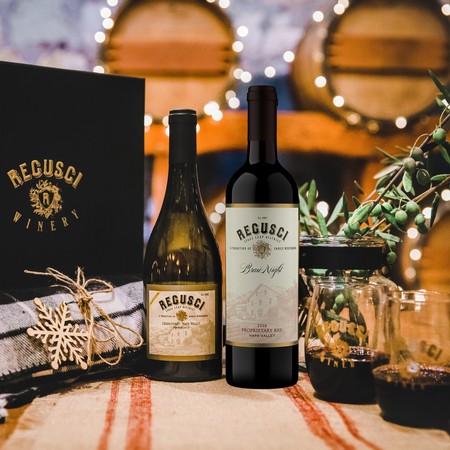 This holiday bundle is the quintessential way to enjoy the splendor of Regusci Ranch from the comfort of your own backyard. And since we're most likely not shopping for ourselves this holiday season, instead we mean that your friends and families are going to love enjoying our Backyard Bundles from the comfort of their backyards. You're going to want to request an invitation for when they uncork what's inside. Each Backyard Bundle comes complete with 2016 Brave Night, 2017 Chardonnay, a Regusci Winery Buffalo Checkered Blanket, and 2 Regusci Winery Go-Vino's.
Our 2016 Brave Night Red Wine has a strong backbone of Napa Valley Cabernet Sauvignon and is complemented by Petit Verdot and Cabernet Franc, to round out and fine-tune.
The first thing you will notice about our 2017 Chardonnay from Carneros is the aromatics which showcase a lovely fusion of Asian Pear, Crème Brulee, Brioche and Chai Tea. The palate offers a great intensity of tropical fruit salad blended with rich baking spices and is soft and balanced leading to a satisfying finish.