2019 Rosé
100% Pinot Noir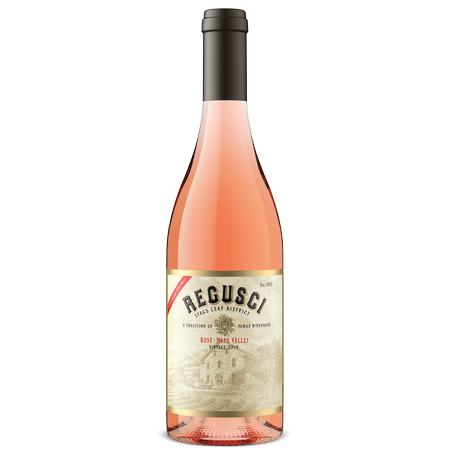 Comprised of 100% Pinot Noir, the grapes were grown in Carneros and then whole-cluster pressed and fermented in stainless steel tanks at cool temperatures, which allow us to preserve the naturally beautiful aromatics and skin color.
You're going to want to uncork this release straight away! A full-flavored, fresh expression of our Rosé of Pinot Noir! Opening with aromas of wild strawberries and cream, raspberry, and kiwi, this crisp and elegantly dry wine is complemented by fruit flavors of watermelon and bing cherry. A wine with vivacious acidity, nicely rounded mid-palate, and a persistent finish.
Wine Specs
Fermentation
Stainless Steel
Wine Profile
Winemaker Notes
100% Pinot Noir
Product Reviews
Dave Scherr
(Apr 28, 2020 at 9:14 AM)
This has become our favorite rose to drink. Good to have while chilling out on the patio, with a cheese plate or just with friends. The fruit is not overwhelming, making it a pleasure to drink.
Jean M
(Apr 30, 2020 at 9:13 AM)
Delicious, rich rosé with flavor enough to sip alone or pair with food. Perfect for spring and summer, especially for dining al fresco!!
Chance Hightower
(Apr 30, 2020 at 9:13 AM)
Love it!!! All your wines are really good. My neighbors should be ordering soon.
abc
(May 1, 2020 at 5:46 PM)
The perfume is beautiful and definitely more flavor and character than last year. I'm no wine maker but seems a kiss of oak would transform the pithy and let the brightness shine all the way through. I am not a fan of Rose (big red lover who enjoys a sharp zesty Sauv Blanc with a spicy seared tuna) so consider the grains of salt in my review.
Chilled - green apple, cherry then watermelon on the nose; annoying orange pith on the pallet. Room temp (and a bit of hand heat) - floral and cherry starburst nose; citrus pith is tamed yet young and wild.
Eugenie le Roux
(May 1, 2020 at 7:28 PM)
A bit more dry than expected but when chilled it makes the perfect summer wine!
Rachel
(May 4, 2020 at 7:19 PM)
Deliciously smooth. I just found my go-to rosé for the upcoming summer season. I highly recommend!
Jessica
(May 5, 2020 at 1:35 PM)
This is the absolute best Rose' I have ever had!
Dick Corvini
(May 31, 2020 at 9:06 AM)
A nice beverage for a warm summer day!!
Karen
(May 31, 2020 at 9:07 AM)
This is one of my favorite rose' wines! Light, crisp and the color is beautiful. I typically drink a bolder wine but this is perfect for easy sipping as we go in to the warmer summer months. I've purchased this wine many times over the last nine months and will continue!
Amelie Welman
(Jun 8, 2020 at 8:55 AM)
Regusci's 2019 Rose is an excellent New Orleans Summer sipper! Beautiful notes of strawberry and raspberry and so elegantly dry. I absolutely love this Rose. I recently purchased 3 bottles and wish I would have bought more. I will be ordering again soon.
Bart Naughton
(Jun 9, 2020 at 9:07 AM)
I do not know If I am the only one, but I look for wines that are in the $20-$40 range that are excellent. I am beginning to feel that Napa and the other wine growing regions in Calif. have gone over that top with Cost of Cab's. This Rose, when on sale, is in the range I have set and is excellent. Not to sweet or Dry. Great job.
MARTIN J KOLLAR JR
(Aug 26, 2020 at 5:29 AM)
Almost always, we look for Pinot Noir Rose wines. We were very pleased with the results as always with every bottle from our 1st winery to visit on all our trips to Napa. Thank you for the summer sipper and the BBQ w/ JR & MC several weeks ago; nice rubs as well. We would like more presentations from both wineries. Thank you.
Tim Maguire
(Sep 1, 2020 at 3:38 PM)
Best balanced everyday drinking wine! My guests also love it, I always serve this first before going to regusci red's
Keep up the great work jim regusci and staff!
Miss you guys, can't wait until they let us travel😊😉