2016 Library Gift Set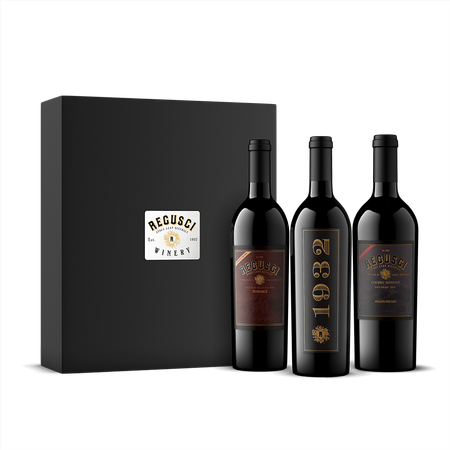 (1) 2016 Patriarch Red Wine- The 2016 blend for this family favorite, is comprised of 84% Cabernet Sauvignon and 16% Merlot. These two Bordeaux varietals were meant for each other, coming together to deliver a mouth-watering red wine. Deep, dark ruby in color, this wine opens with hints of cedar, blackberry, and red cherry with subtle Asian spices on the nose. A lush and mouth-filling glass of wine, bursting with black currant and red plum, fresh coffee grounds, and creamy nougat.
(1) 2016 1932 Red Wine -
In 1932, Gaetano Regusci cashed in his life insurance and bought a foreclosed, run-down property in today's Stags Leap District. Today, this ranch is home to some of the best Cabernet Sauvignon plantings in the entire world. The 1932 Red Wine represents the best of our estate Bordeaux varieties and is a wine to be cherished and enjoyed.
The 2016 vintage is bursting with aromas of ripe raspberries, and strawberry jam, with soft, toasted vanilla notes. This smooth, velvety wine fills the palate with nuances of violet, and vanilla pods, and a soft smoky, toast. With each swirl and sip, you'll discover rich tannins beautifully framed by French oak.
(1) 2016 Angelo's Cabernet Sauvignon-2016 was a classic growing season here on Regusci Ranch, which yielded a strong-willed wine that takes its time to unfold. Aeration releases aromas of cedar, coffee, and dark fruits. Black currant flavors dominate the mid-palate, which is then framed with tense tannins and oak structure on the finish. This wine is special to our family, and before each highly anticipated release, we refine it to be the best of the best from our 286 acres. Enjoy!